Actress Etinosa has took to her instagram page to explain why she can't date Oyemykke. She said it's a freedom of speech and she can't hide her feeling because she's not a pretender. Actress also advised Oyemykke to work on himself and stop spitting on people.
see her post below;
"I can't date you no suppose cause quarrel na. My guy no vex!! Freedom of speech. My opinion and I stand by it. Will you say you have never expressed your dislike for someone? Uncle everybody must not like you some people don't like me too but I'm not killing myself. I must not like you and I didn't hide it. I'm not a pretender. A lot of people share my views and do not like you too but hailing you and calling you bro! Baba work on yourself and stop spitting on people. EGBEDIN!!! "
Popular social media influencer, Oyemykke who has dubbed Nollywood actress Etinosa Idemudia an 'apologetic nudist' after she berated him as a noisemaker.
The actress who gained modest popularity after her Nood video went viral a couple of months took to Instagram to instigate that she cannot date Oyemykke because he is too lousy.
Etinosa had dropped her opinion in the comment section of an advert the UK-based motivational speaker engaged in.
The Nollywood actress wrote:
"I can't imagine dating this guy. He shouts too much. God forbid"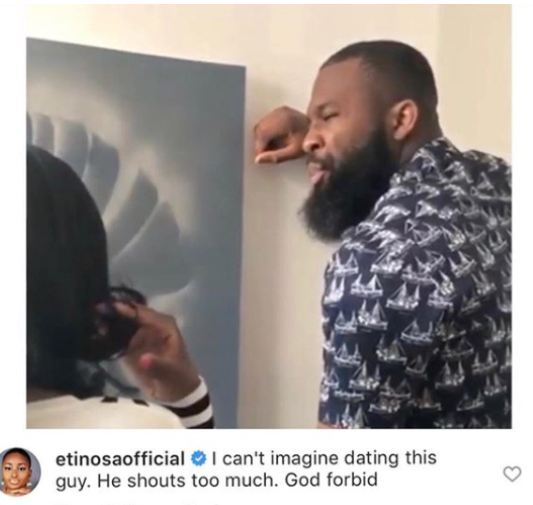 Reacting to the comment, Oyemykke described Etinosa as an 'apologetic nudist' and someone so low who seeks for attention.
He also warned her against "trying him" as she will "get it hot for 3 days anywhere she goes".